MAT Machining Europe Increase Output With New IoT Solution
The MAT Foundry Group is no stranger to innovation and is once again charting a course for the automotive sector, thanks to a new collaboration between MAT Machining Europe and manufacturing software developers EMAG.
A recent adoption of their innovative IoT solution has set our Immenhausen plant on course to record an 11% increase in output. And that's just the beginning…
IoT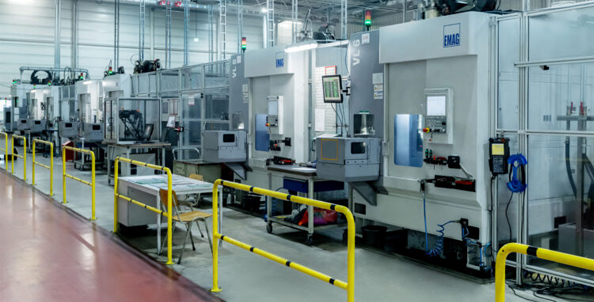 IoT is designed to assist production managers in their day-to-day activities. Through the syncing of machines, they are suddenly able to monitor and evaluate production from a central hub.
MAT Machining Europe quickly identified the potential of this configuration and the benefits it could bring to their operation. The presence of five production lines, each featuring seven EMAG machines respectively, meant they were primed for 'digitalisation'.
Over the course of two years that's exactly what happened, with an automated solution allowing them to make innovative use of any production data generated.
This has all been made possible by linking the machines with EMAG's TrackMotion sensors.
Two types have been installed in the MAT facility, namely EDNA Core (an industrial PC) and EDNA Neuron 3DG (an acceleration sensor).
So, while the typical TransLift unit travels "through" the machines on a rail system as normal – so as to transport components from one pick up station the next - extensive data gathering is taking place in the background.
This information is fed back to an EDNA Lifeline Dashboard, where customers (or production managers) can digest the findings using a series of apps.
These programmes are many and varied, though the MAT Machining Europe team chose to install the following…
Part Quantity Forecast (forecast of the output quantities per shift)
Cycle Time Monitor (information on current cycle times of machines or lines)
Smart Tool Change (information on remaining tool life)
OEE Monitor (detailed breakdown of the current OEE)
Health Check (audit on machine condition)
Sensory Monitoring (health value of drive and spindle, indicating initial wear and tear)
Optimisation
The insight gained from said apps has optimised the manufacture of complex differential gear housings. This has proven invaluable given the plant machines up to two million of the components every year.
What head of engineering Alex Dragers calls 'time wasting' procedures have been eliminated, increasing productivity in the process.
Charged with more data, production planners are quickly able to identify the quality of parts being produced. Just as importantly, operators are better able to plan their workflows.
Not only do they return to machines from breaks on time, they always have the right tools on hand when a change is required.
Partnership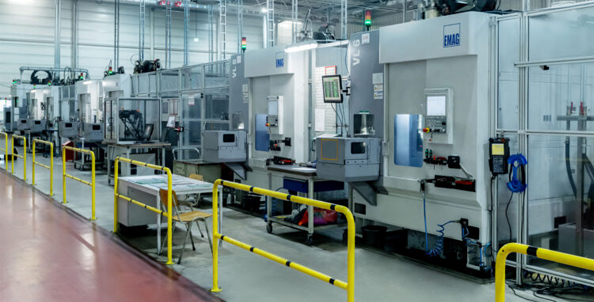 The MAT Machining Europe and IoT partnership only began in 2019, when experts from EMAG and its partner companies (EXXETA, Intuity and Anacision) were invited to view the production process for differential gears up close.
On the back of this visit, use cases and technological solutions were researched, which informed the all-important EDNA Cortex software and prototypes for the aforementioned apps.
Less than two years on, MAT Machining Europe has increased its output by almost 11% and intends to expand the rollout of the software, with further lines earmarked for the IoT treatment.
New capabilities have also been promised by the developers themselves, including Tool Breakage Detection, which will reduce wastage further still.
Innovation
Drager is delighted with the initial results and explained how both parties have benefited from the link-up.
"We generally rely on highly efficient state-of-the-art production solutions, which we are constantly developing further. Digitization is naturally an important topic here. At the same time, we knew that EMAG has made great efforts around IoT in recent years and is quite interested in testing new IoT solutions with users and getting qualified feedback. So for both companies, the whole thing is a win-win situation."
Indeed, the early findings suggest Overall Equipment Effectiveness is greatly increased as a result of IoT software, while a Return on Investment can be realised as soon as a year after its implementation.
The MAT Foundry Group has built a reputation for embracing modern techniques, something which keeps us at the forefront of casting and machining. This is just the latest example, with automation and autonomation certain to be adopted by foundries the world over.
Read more about MAT Foundry's partnership with EMAG here.
MAT FOUNDRY GROUP ARE A LEADING MANUFACTURER OF GREY AND DUCTILE IRON CAR COMPONENTS. TO LEARN MORE ABOUT US VIEW OUR PRODUCTS OR CONTACT US TODAY
News and blogs
What Is Hypermiling and How Safe Is It?

13th Sep 2023

Read More
Instagram Feed
Latest Vacancies