Reichmann - S1-C Grinding Line for Brake Discs
MAT Foundry group are pleased to announce that our Eurac Poole site will be receiving a new automatic grinding line, including a palletizing robot system for the Fettling shop. The Reichmann S1-C is a casting grinding machine, that provides a fettling finish for circular castings.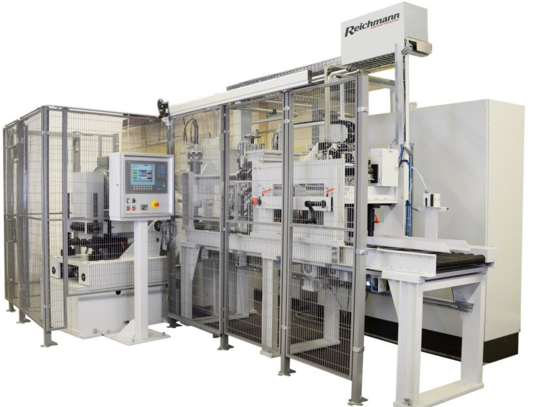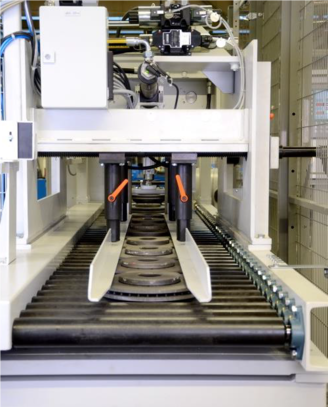 For those unfamiliar with the fettling/grinding process, the machine begins with circular castings transported across a roller conveyor to the grinding machine, where the parts are separated and automatically placed onto the grinding station. Once finished the parts are transported via an electrical driven conveyor out of the grinding machine and stacked via an automatic robotic arm, on to a pallet.
Features

Included in the purchase of the Reichmann – S1-C, is a grinding line for the outside deburring of circular castings, consisting of a complex set of charging equipment that are automatically fed and stored in the conveyor magazine. The positioning of the brake discs is made by NC-control, including a pushing device that guides the discs to the grinding station. One big advantage of the pushing device is all energy cables and hydraulic tubes have good accessibility and are positioned in an area that will be easy to maintain and clean.
The grinding unit itself is a heavy machine pedestal, with an integrated spindle unit. The rotation unit speed is adjustable and hydraulically driven, with a motor brake installed for a quick stand still control. The grinding wheel is fitted in the unit and is 762mm x 76mm x 560mm and has the capacity to rotate at 45m/sec with a 37-kW power output.
The Reichmann – S1-C control panel consists of Siemens components S7-1500. The machine settings and visual display are activated via operator panel, which guarantees an easy handling of the machine functions.
Hradec
This isn't the first time MAT Foundry Group have purchased this technology before; Eurac Hradec currently uses the Reichmann – S1-C and utilise it to fettle their own passenger brake disc products. This modern technology enables Eurac Hradec to fettle a high volume of discs at a very high standard, which is what we expect to happen at our Poole site.
GIFA 2019
Reichmann are also in attendance at GIFA this year, with MAT Foundry Group sending a large contingent to the international event at Dusseldorf. They will be showcasing three of their products at the event, including the S1-C grinding machine.
The other two products that will be at their stall is the Plane Grinding Machine DPM and the Plane Grinding Machine PM. PM engine block plan grinders are designed for four-sided grinding on inline engines. The crankcases are charged by hand or with a robot.
The Reichmann DPM is an engine block plan grinding machine and designed for four-side grinding in inline engines or five-sided grinding in V engines.
News and blogs
What Is Hypermiling and How Safe Is It?

13th Sep 2023

Read More
Instagram Feed
Latest Vacancies