Beware The Most Dangerous Driving Roads In The World
When a need for speed is satisfied what next for motoring's adrenaline junkies?
The answer it seems lies not in the track but the terrain. And the tougher the better.
For decades the fearless-cum-foolish have made a point of seeking out the world's most treacherous roads. Some with fatal consequences.
But what constitutes the proverbial danger drive? MAT Foundry Group have taken a closer look at five of the scariest.
Yungas Road, Bolvia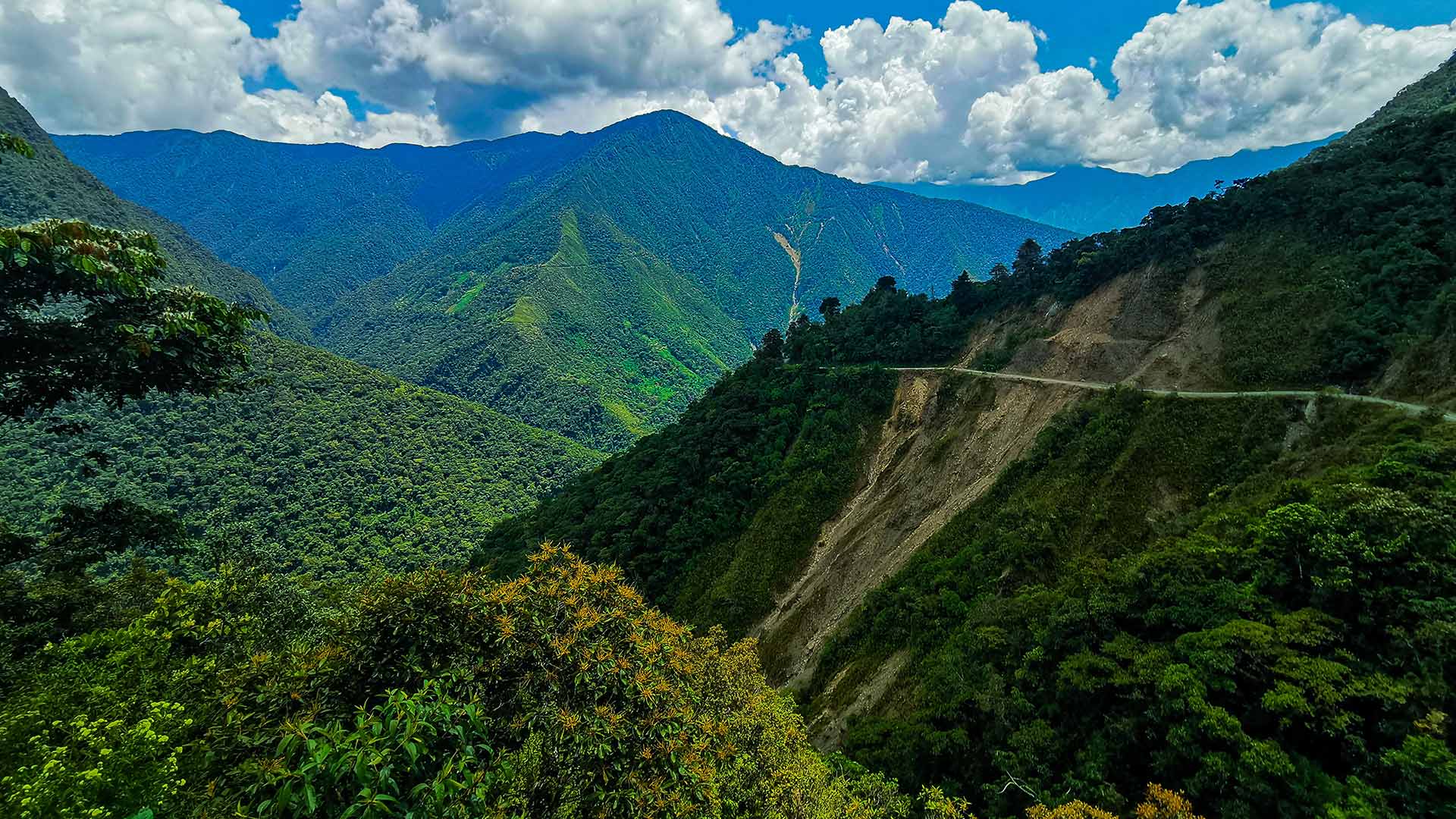 1930s Bolivia and the Chaco War rages.
Paraguayan prisoners set about creating a 43 mile stretch of land connecting Coroico and La Paz, the nation's capital. Little did they know it would go down in infamy and be dubbed worldwide as 'Death Road'.
A single lane rarely exceeding 3m wide, it would be considered a highway to hell were it not for the fact it reaches to the heavens. Incredibly the gravel trail tips 15,256 ft, meaning cars actually drive ABOVE cloud level.
Those ascending it are struck by hairpins that number the hundreds, some serving a sheer drop of 1,100 metres.
Tourists are struck by the number of memorials which outnumber guard rails. These shrines are a solemn reminder of those who have perished on Death Road.
Recent analysis suggests between 200-300 do so every year. At least one vehicle succumbs per week.
The most tragic incident surely occurred in 1983 when a bus load of people veered into the canyon, killing 100 passengers in the process.
Mini waterfalls can be sighted around the accompanying rockface but nothing can wash away the pain of that and so many other incidents.
Guides have been written with best practices and words of warning for those planning this terrifying jaunt.
Back in mid-90s the Inter-American Development Bank christened it the world's most dangerous road. Few would argue with that label.
Skippers Canyon Road, New Zealand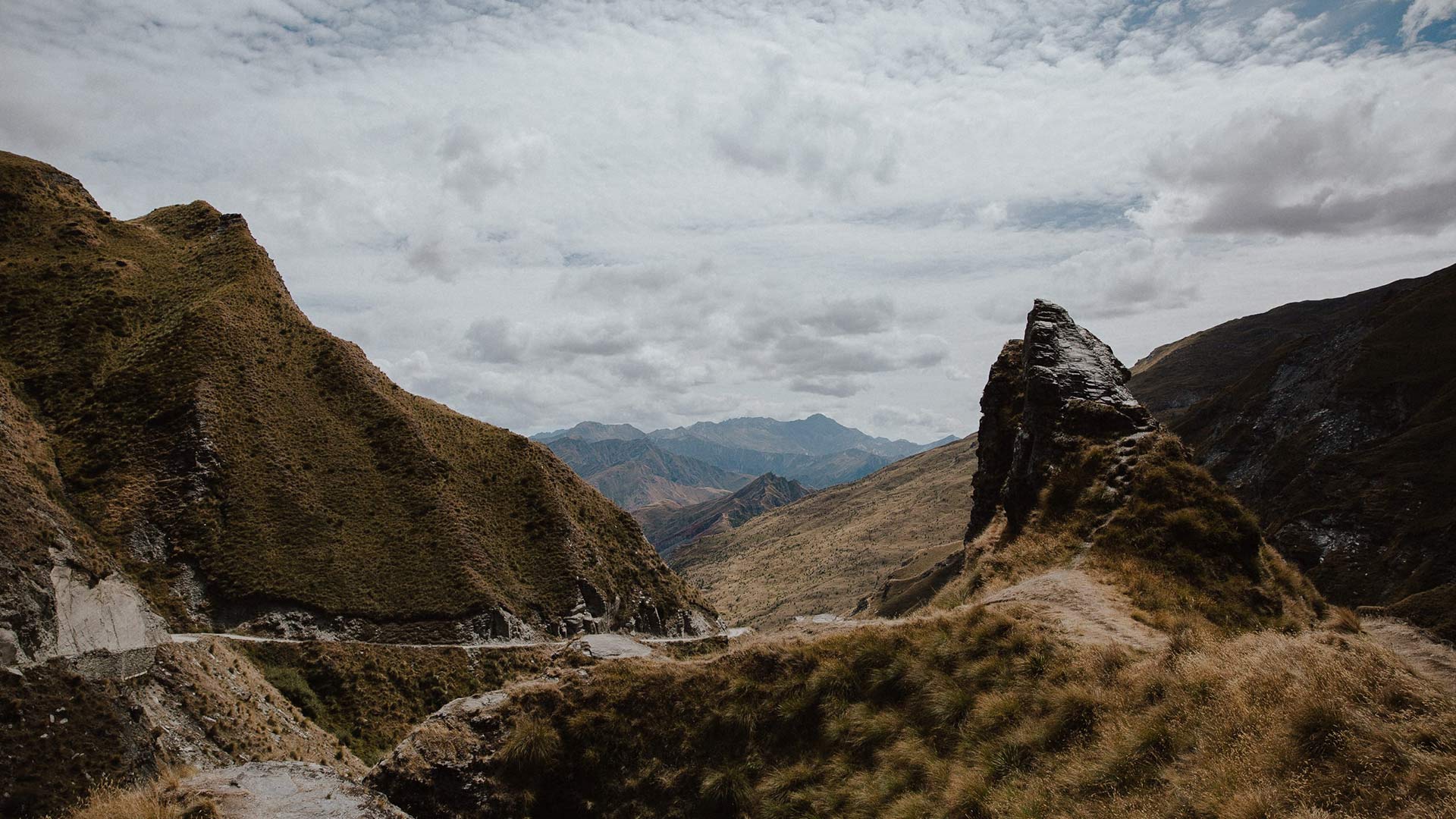 South West New Zealand, 1883.
A team of miners begin hand carving a road they hope will lead to the discovery of gold.
Unbeknownst to them, by the time they finish seven years later, they will have forged one of the world's deadliest tracks.
Spanning 16.5 miles Skippers Canyon has altered in the near century and a half since but still claims the lives of 100 people every year. While safer, it is by no means safe.
Back in 2013 a British study led by Driving Experience scored the track 7/10 for fear factor and placed it among the 22 most terrifying roads anyone can drive. It did so on the back of creating an interactive map aligned to the World Health Organisation's own report on road safety and data sets.
Skippers Canyon offers beautiful views that disguise its ugly truth. Its famed for high elevations, steep grades and no end of twisting harpins.
Narrow roads made from gravel make it almost impossible for cars to pass. So much so newly qualified drivers are strongly discouraged from even approaching the development. Incredibly - and perhaps inexplicably - officials are far more trusting of bus drivers, with countless adventure tours carrying hordes of sightseers.
Such excursions are not for the faint-hearted.
Bayburt-of Road D915, Turkey
1916. The deadly Trebizond campaign has resulted in Russian naval and land operations capturing the Turkish city of Trabzon.
Fresh from victory, troops set about building a new road that still strikes fear into motorists 100 years on.
The Bayburt highway itself is located along the boundary of the Black Sea region, nestled into the foothills of the 6,000 foot high Soganli Mountain.
The threat of landslides are constant and large sections of the road are closed to the public in winter months.
Stretching 66 miles and boasting as many as 29 hairpin bends, one section in particular is X-rated.
The Bayburt-of D915 sees motorists climb from 5,617 feet above sea level to 6,577 in as little as three miles.
An absence of guard rails is unnerving and offers no barrier between driver and death drop.
While the Debrasi turns are certainly iconic many are impossible to navigate at the first attempt. Narrow sections and dangerous drop-offs abound, while there is little in the way of asphalt finishing to make for a smoother ride. Here loose gravel rules the day.
Incredibly the Bayburt highway itself is used daily by workmen transporting goods. Less experienced drivers are urged to steer clear. Many will have heeded that advice following a dangeroudraods.org article naming the D915 as the most dangerous driving rout in the world. More precarious even than Bolivia's Death Road.
That should be enough to stop you programming it into your sat nav.
Karakoram Highway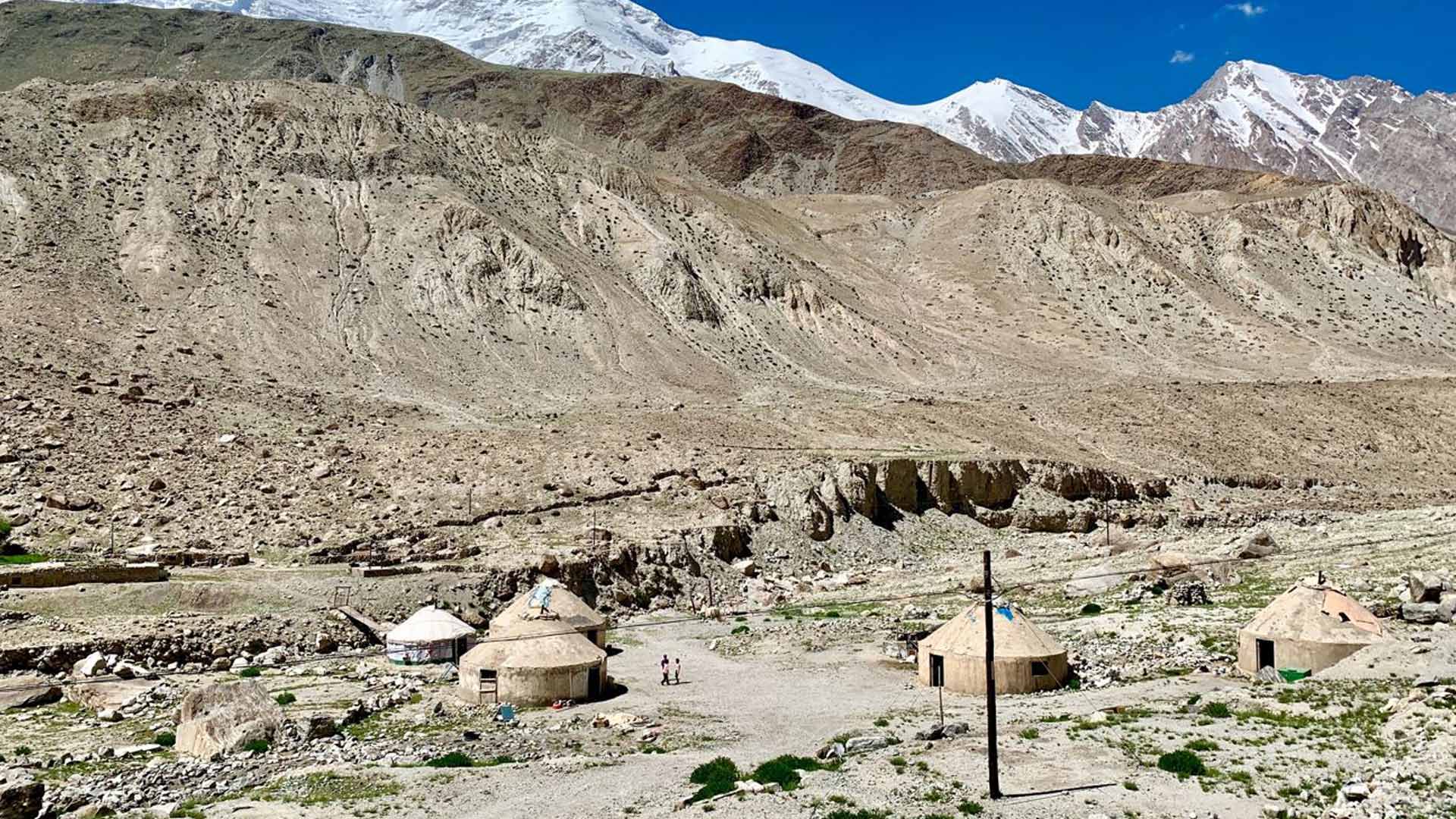 It's strange to think something genuinely considered as an 8th wonder of the world also happens to contain one of its most dangerous roads.
Built between 1959 and 1986 the Karakoram Highway connects China and Pakistan and stands at an incredible 15,400 feet above sea level. That makes it the highest paved road anywhere on the planet.
Its construction was long and fraught. It also cost almost 900 workers their lives, the majority of which succumbed to rockslides.
Others were beset with altitude sickness, such are the dizzying heights.
This hellacious highway is punctuated with harpin turns and sheer drops all across its 800 miles. It is also vulnerable to flooding, which have caught many tourists off guard.
Plans to widen the main stretch from 32 to 100 feet are now well underway. Sadly they won't come soon enough for the passenger bus that crashed in 2018, killing 17.
The KKH presents the rare opportunity to cross the Himalayas. A once in a lifetime trip for a lucky few it has shortened the lives of too many.
Dalton Highway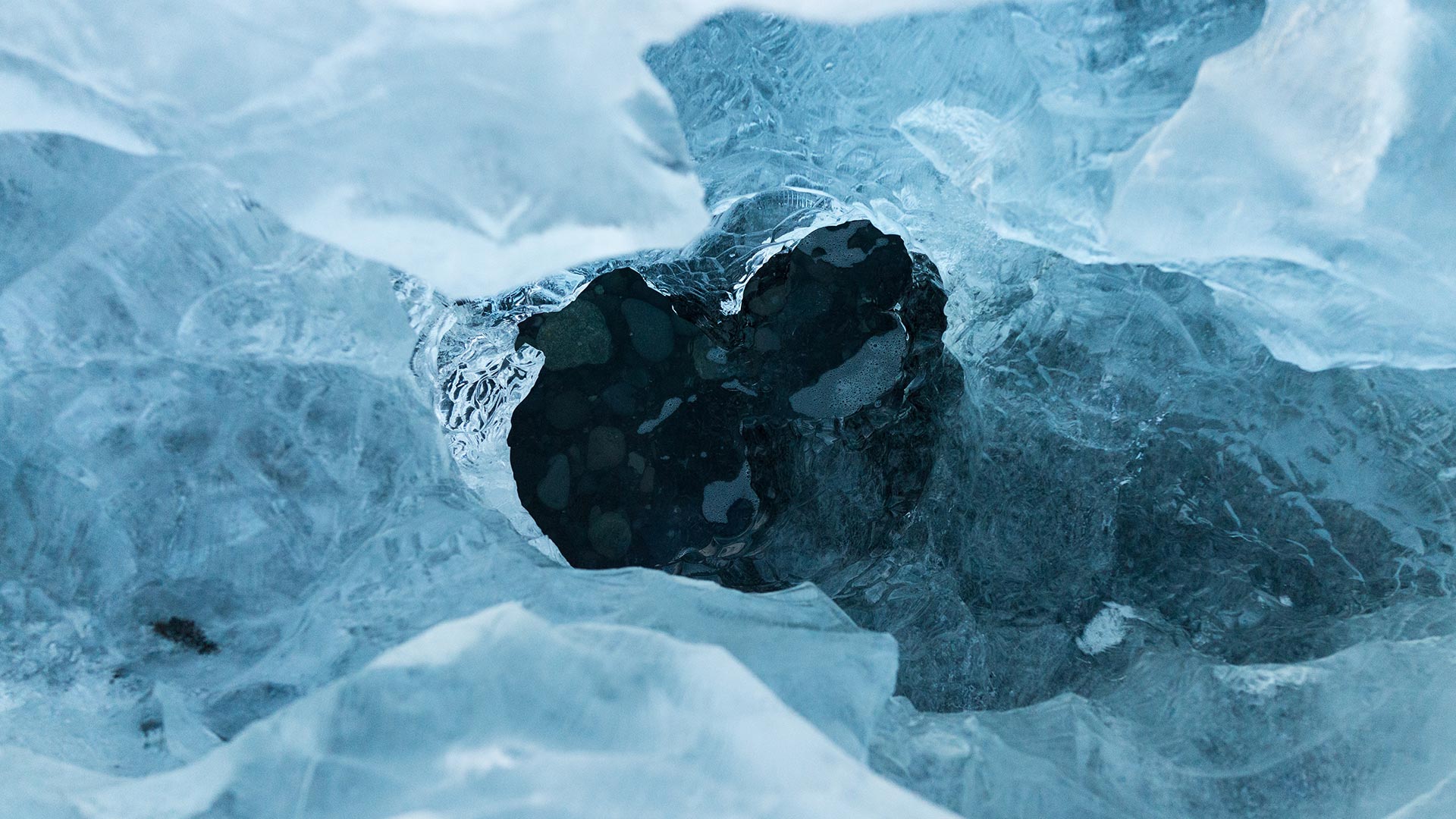 Any road dangerous enough to spawn a TV show is worthy of inclusion in this blog.
So treacherous a drive is Dalton Highway along the Trans-Alaska pipeline that the History Channel made it the focus of their popular Ice Road Truckers series between its fourth and sixth seasons.
Widely regarded as one of the four scariest roads in Alaska (alongside First Road and Sterling and Seward Highways respectively) it's without question the loneliest. Helicopter patrols are commonplace as professionals ride to the rescue of stranded parties.
Any pre-journey fears are quickly amplified when travellers lose phone signal and clock the absence of places to stop. Need fuel? That's available in just three spots across 400 miles of terrain.
The temperature is freezing and the weather temperamental, often resulting in poor visibility.
At its peak, Dalton Highway reaches 4,739 feet above sea level.
A relatively new construction (only built in 1974) this infamous highway was erected as a supply route for the Trans-Alaska Pipeline System. It was named after legendary Alaskan-born engineer James Dalton who oversaw the build itself.
As many as 250 trucks cross the majority of the two lane, 414 mile stretch of gravel in wintertime.
109 miles of that however are sealed off. Indeed it took until 1981 for the route leading to mile 211 to be opened to the public. Unsurprisingly, general traffic is discouraged.
The US Department of Interior, Bureau of Land Management even released eight rules for those tackling the journey. They range from giving big trucks right of way to never stopping on bridges or hills.
Those crazy enough to want to venture to this part of the world must brace themselves for temperatures as low as -80 F and the omnipresent risk of avalanches. Making the trek between September and June is to risk total isolation.
While admirably maintained by the Alaska Department of Transportation & Public Facilities friends are hard to find on the 'Loneliest Road in America'.
So there you have it. Five of the most dangerous routes anyone can take by car. For some they'll feature on a curious bucket list doubling as a personal death wish. For the rest of us, they're a reminder of how bad things could be when sat stationary in the daily commute.
MAT Foundry group are a leading manufacturer of grey and ductile iron car components. To learn more about us, view our products or contact us today.
To read how we're improving our environmental impact worldwide click here.
Instagram Feed
Latest Vacancies