Bugatti Breaks Sacred 300mph Barrier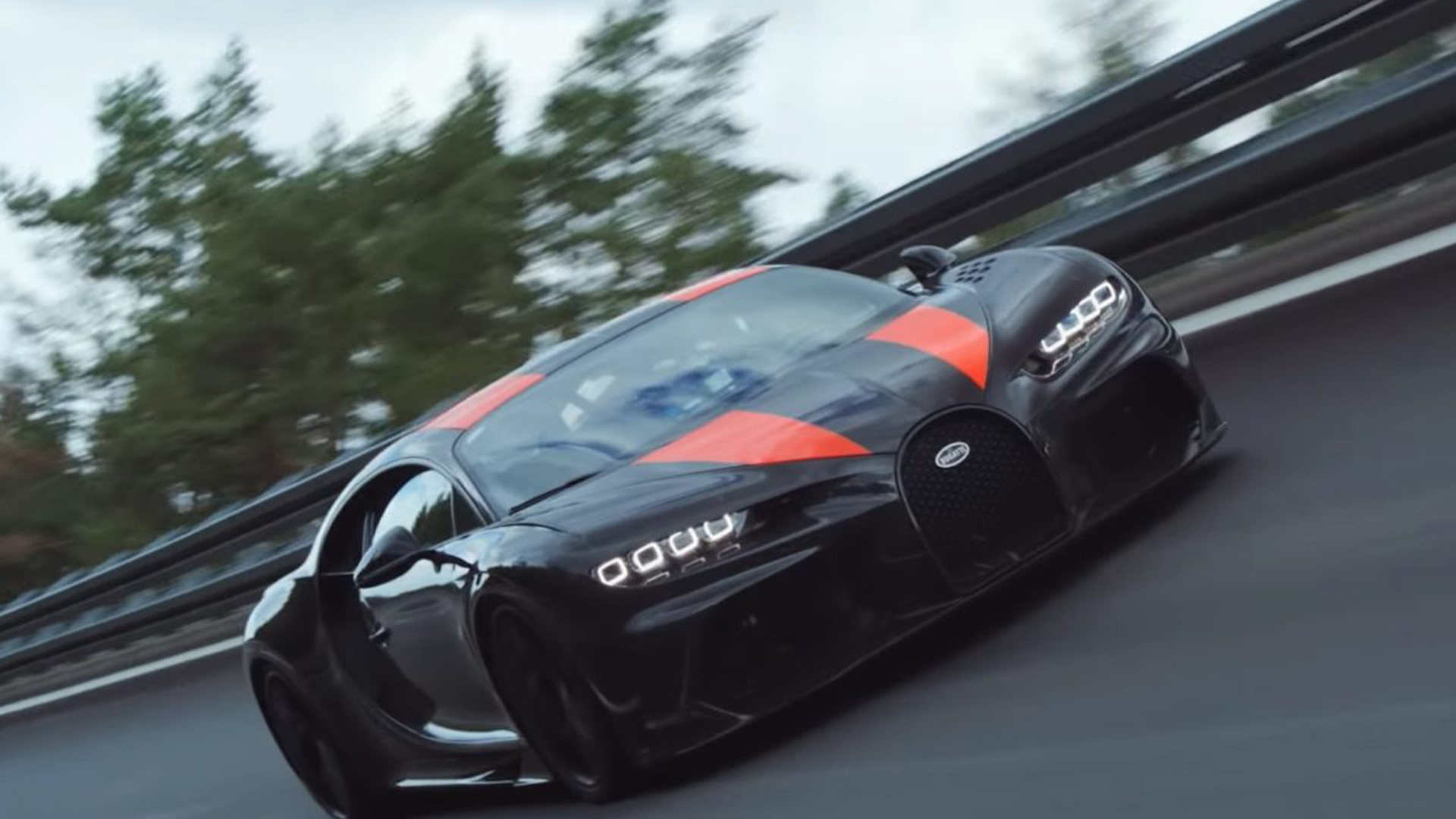 It's certainly been an eventful few weeks for Bugatti. First the high-performance automakers realised a long-held ambition, only to bow out of a quite fascinating arms race just as quickly. What do they say about going out on top?
Let's look back on an unforgettable month…
On August 2nd the French manufacturers created history, when theirs became the first road car to break the sacred 300mph barrier.
Germany's Ehra-Lessien test track played host to this astonishing record attempt, while British driver Andy Wallace was strapped in for the ride.
A veteran test driver, Wallace called upon 40 years of racing experience to scorch the 21km, three-lane highway in a modified Bugatti Chiron, clocking a top speed of 304.77mph in the process.
Not only did this better the previous record set by Koenigsegg in 2017 (284.5mph), but break new ground in the same, blistering swoop.
So, what's the story behind the record?
Modifications
On the back of Koenigsegg's 2017 feat, Bugatti went back to the drawing board wounded and seemingly hellbent to prove its superiority. The 300mph barrier had proved elusive for good reason and additional man and brain power would be required to defeat the odds.
As such Bugatti paired their own engineers with peers from Michelin and Dallar and set about constructing a hypercar, the likes of which we've never seen before.
Over the course of six inspired months this manufacturing A-team assembled a pre-production prototype of the $3 million Chiron, its modifications geared entirely towards this one record attempt.
Alterations included the abandonment of numerus items – amongst them a rear wing, airbag and passenger seat. Significantly, the latter made way for a mixture of computer systems installed with a view to tracking performance and clawing back milliseconds.
Elsewhere we saw the addition of a roll cage, as well as stacked exhaust pipes turned away from the base of the car, so as to improve aerodynamics.
The biggest revision, however, was centred around drag, with a lower ride height designed to reduce this dramatically. Sized 25cm longer than the previous incarnation this was no small tweak.
Finally - and most importantly - the design boasted boy racer stripes. Surely the clincher.
Tyres
Such meticulous preparation extended to the choice in tyres, game changers in their own right. Engineers were rightly conscious that once a certain threshold is met, standard rubber can no longer grip asphalt, a failing which caps a car's velocity – catastrophic in this scenario.
Michelin were therefore tasked with producing bespoke rubbers that could withstand an eye watering 5,3000G and 68 rotations a second. Undaunted they got to work, using x-rays during an intense testing phase to ensure these particular tyres could reach speeds of 318mph and – most importantly - stay together. Reinforced steel belts saw to that.
Engine
For all the marginal gains however, this operation would live and die by the engine, which was predictably monstrous.
Christened Thor, it is an 8.0 litre, quad-turbo W16 no less, one capable of delivering 1,578bhp. For scary reference, that's 100bhp more than the original Chiron can muster.
Early indications suggested it was having the desired effect, with test runs coming agonisingly close to the magic mark themselves.
Come the main event, near misses were never likely to pose a problem. The man in the driver's seat would make sure of that.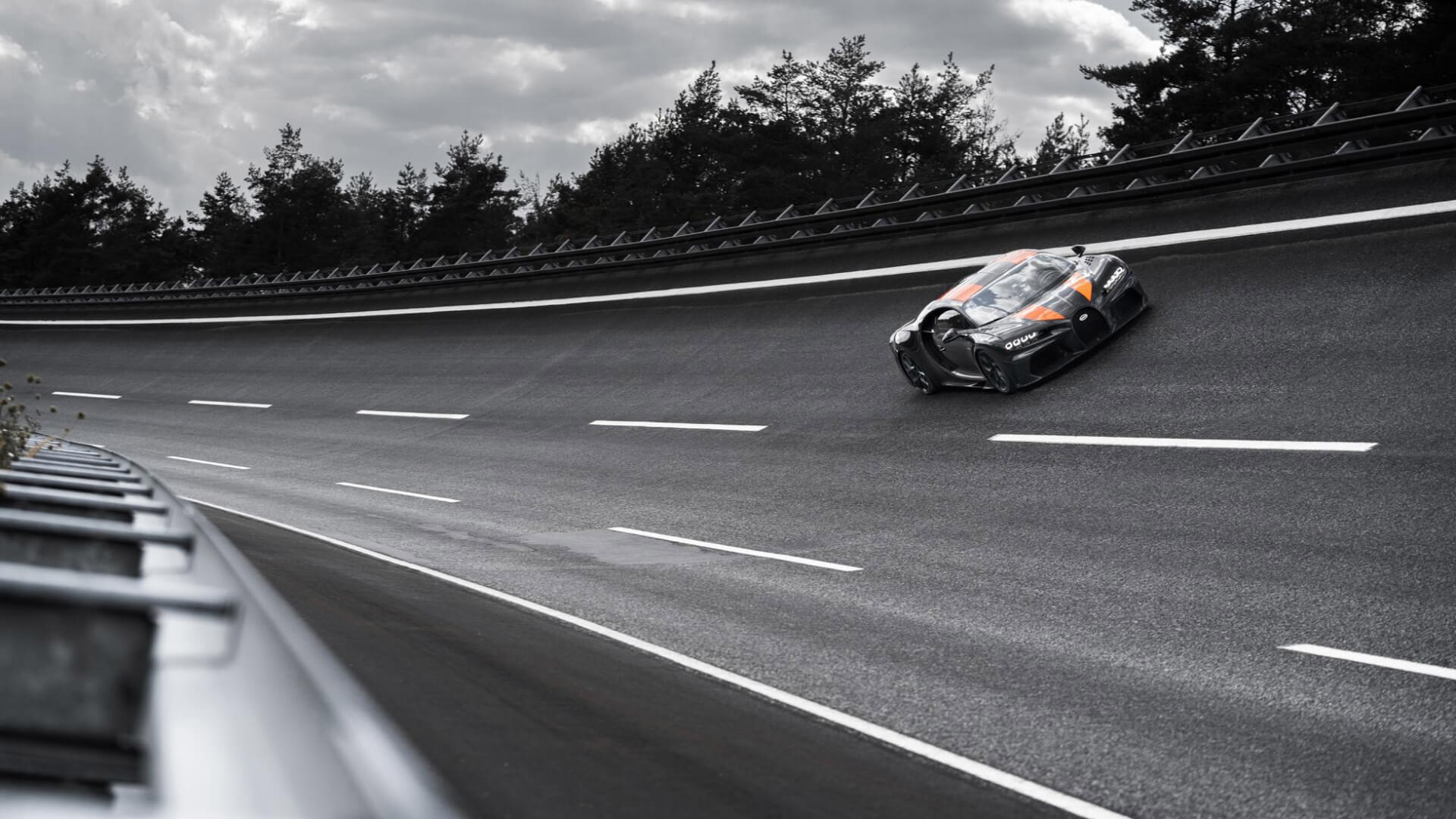 Andy Wallace
Indeed, Andy Wallace had been here before. Back in 1998 it was he who claimed the record of the fastest production car on behalf of McLaren, one which stood for an unlikely 11 years. On that March afternoon he realised a top speed of 240.1mph, a relative crawl compared to those he reaches in his day job as a Bugatti test driver.
Aged 58 the Brit has clocked up more than 25 International Sport Car titles, Le Mans 24 and 12 Hours of Sebring included. He proved to be the right man for the job, even if the presence of crash barriers and safety crews at either end seemed ominous.
In setting a final speed of 490.47kmh Wallace climbed from 200mph to 304mph in a frightening 45 seconds. The lucky few who attended – Top Gear among them – would be forgiven for doubting their own eyes. Thankfully for them and us it's been documented in video form…
Controversy
There is no doubt that breaking the 300mph barrier represents a huge achievement for the automotive industry and Bugatti in particular. Unchartered territory has been unlocked and all manner of great PR will now follow.
President Stephen Winkelman is basking in the glow of his success and few can blame him.
"Bugatti has once again shown what it's capable of. With this new record of the Chiron we enter again uncharted territory. Never before has a series manufacturer reached this high speed. Our goal was to be the first manufacturer ever to reach the magic 300mph mark. We have now achieved this – making ourselves, the entire team and myself, incredibly proud."
Yet for all the celebration, certain quarters are looking to pour scorn on the record itself. Indeed, cynics have gone as far as to question its validity, citing the fact most records are recorded across two runs in opposite directions, so to account for the likes of tailwind. Strangely, the Bugatti Chiron opted for one run in one direction, a controversial approach.
The bigger debate centres around the fact the Chiron is not strictly a production car, but rather a prototype of one. Can it truly lay claim to this title then?
Amid the furore Winkleman chose to change the narrative.
At the beginning of September, the popular president announced Bugatti had now achieved their ultimate speed testing goal and as a result would retire from chasing such records immediately. Moving forward the automakers would focus "on other areas" he declared.
Retirement
This move certainly marks the end of an era. Bugatti's thirst for records is well documented and stoked a friendly rivalry with the likes of Koenigsegg, Hennessey and SCC North America for the better part of three decades.
Achievements included 1998's land speed record with an unrestricted Veyron Super Sport (267.8mph) and the fastest open top production car courtesy of the Veyron Grand Sport Vitesse (254.0mph) six years ago.
Primed to seize the mantle, Koenigsegg are reportedly readying their Jesko hypercar for their own 300mph attempt, meaning Bugatti's reign could be short lived.
Hennesey meanwhile congratulated their 'foes' via Instagram but shot a warning that they "accept the challenge".
A motoring arms race looks set to continue with or without Bugatti and the likelihood is their newest record will tumble within 12 months. Even so they will always be the first to crash through 300mph in a production car. History makers now and forever; we have a suspicion they'll be back for more in the not too distant future.
As for the car of the moment, rumours abound that limited-edition model will soon be upon us, meaning millionaires could soon chase their own records.
MAT FOUNDRY GROUP ARE A LEADING MANUFACTURER OF GREY AND DUCTILE IRON CAR COMPONENTS. TO LEARN MORE ABOUT US VIEW OUR PRODUCTS OR CONTACT US TODAY
Instagram Feed
Latest Vacancies