MAT Foundry Embrace AI-Powered Monitizer | PRESCRIBE To Drive Smarter Green Initiatives
The MAT Foundry Group have selected DISA's innovative Monitizer | PRESCRIBE tool to reduce scrap across its operation.
The Foundry Group's seven sites produce over 350,000 tons of iron per year as one of the world's biggest manufacturers of car parts. The Group is committed to reducing its environmental impact throughout the world - with all foundries and machining facilities striving to improve efficiency, reduce waste and recycle more of their materials.
Reducing scrap is one of the Group's biggest sustainability challenges. By deploying DISA's Monitizer | PRESCRIBE technology in its casting process, quality can be vastly improved – cutting the volume of waste produced.
The initial test site will be MAT's EURAC facility in Poole, UK which produces over 40,000 tons of iron castings annually.
Already a longstanding DISA customer, EURAC have used the Monitizer | DISCOVER solution for data collection, data visualisation, real-time monitoring and alerting since 2016. By employing Monitizer | PRESCRIBE across its two existing DISA lines, casting quality will be maximised, reducing waste.
Monitizer | PRESCRIBE harnesses cloud computing and AI to optimise an entire process.
By analysing live data, Monitizer | PRESCRIBE can recommend changes to process parameters that will prevent defects from occurring.
With the first test runs scheduled for mid-2022, data is currently being loaded into the AI, which will then be visualised to understand EURAC Poole's processes. Turning this data into actionable insights is a fully automated process, with no intervention required to generate suggestions for improvement.
Driving down scrap will boost EURAC Poole's profitability and, thanks to lower energy consumption, improve overall sustainability.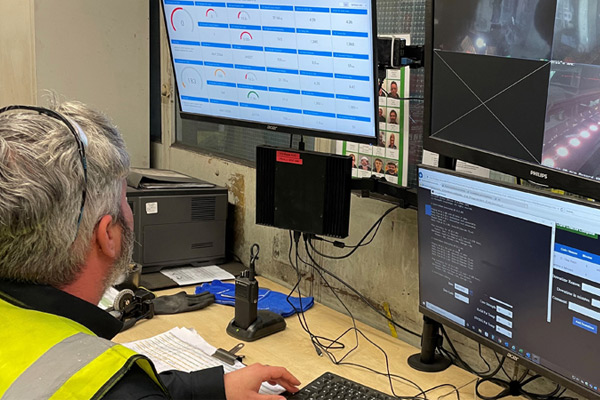 The benefits don't end there.
Monitizer | PRESCRIBE's automated recommendations will also help fill a potential knowledge gap at the foundry, as a huge amount of expertise is often lost when older staff retire – and of course, upskilling and training existing staff takes time.
PRESCRIBE will analyse historical data to learn which inputs work best and guide the process of adjusting operations to reach the best possible quality. By not relying on the trial and error of operators as a learning tool, process variability is significantly reduced, too.
Using DISA's NoriGate gateway, EURAC Poole has connected Monitizer | DISCOVER to more and more equipment over the last six years to create a real-time, data-based view of its entire process.
Managers can view critical KPIs within customised dashboards, while the wider workforce have increased visibility of information on the factory floor. For example, a large screen in the core shop displays shift targets for production, as well as whether workers are on track to achieve them.
In the past, data capture projects of this magnitude would have been a huge expense but deploying NoriGates is very quick and affordable. Based on a cloud platform where all data is ready to analyse, extraction is a simple process that uses any PLC or data source - without a requirement for DISA or Norican machines.
Digital projects are a pillar of MAT Foundry Group.
Including the successful implementation of Monitizer | DISCOVER at the Mincer facility in Mexico, EURAC Poole collaborates closely with DISA and other Norican brands – such as Wheelabrator - to make the most of the latest technology as soon as it becomes available.
This has underpinned a culture of continuous digital improvement for the MAT Foundry Group, including the use of DISA's Remote Smart Service (RSS) to deliver expert technical support via video stream during Covid.
Shaun Lindfield, Commercial Director at MAT Foundry Group says:
"Our long partnership with DISA and other foundries' successful PRESCRIBE deployments give us confidence that this technology is well proven and the correct next step in our digital journey. In fact, this project is very low risk for us. Monitizer | PRESCRIBE uses the same platform as our existing Monitizer | DISCOVER tool and has sensible upfront pricing with ongoing subscription-based payment."
About MAT Foundry
Consisting of eight companies and stretching across three continents, the MAT Foundry Group is leading the world in the engineering and manufacture of cast and machined products serving the passenger, commercial, and heavy-duty vehicle markets as well as industrial and racing applications.
For more information, please contact 01202 715050.
News and blogs
What Is Hypermiling and How Safe Is It?

13th Sep 2023

Read More
Instagram Feed
Latest Vacancies