Gordon Murray's New Supercar - The T.50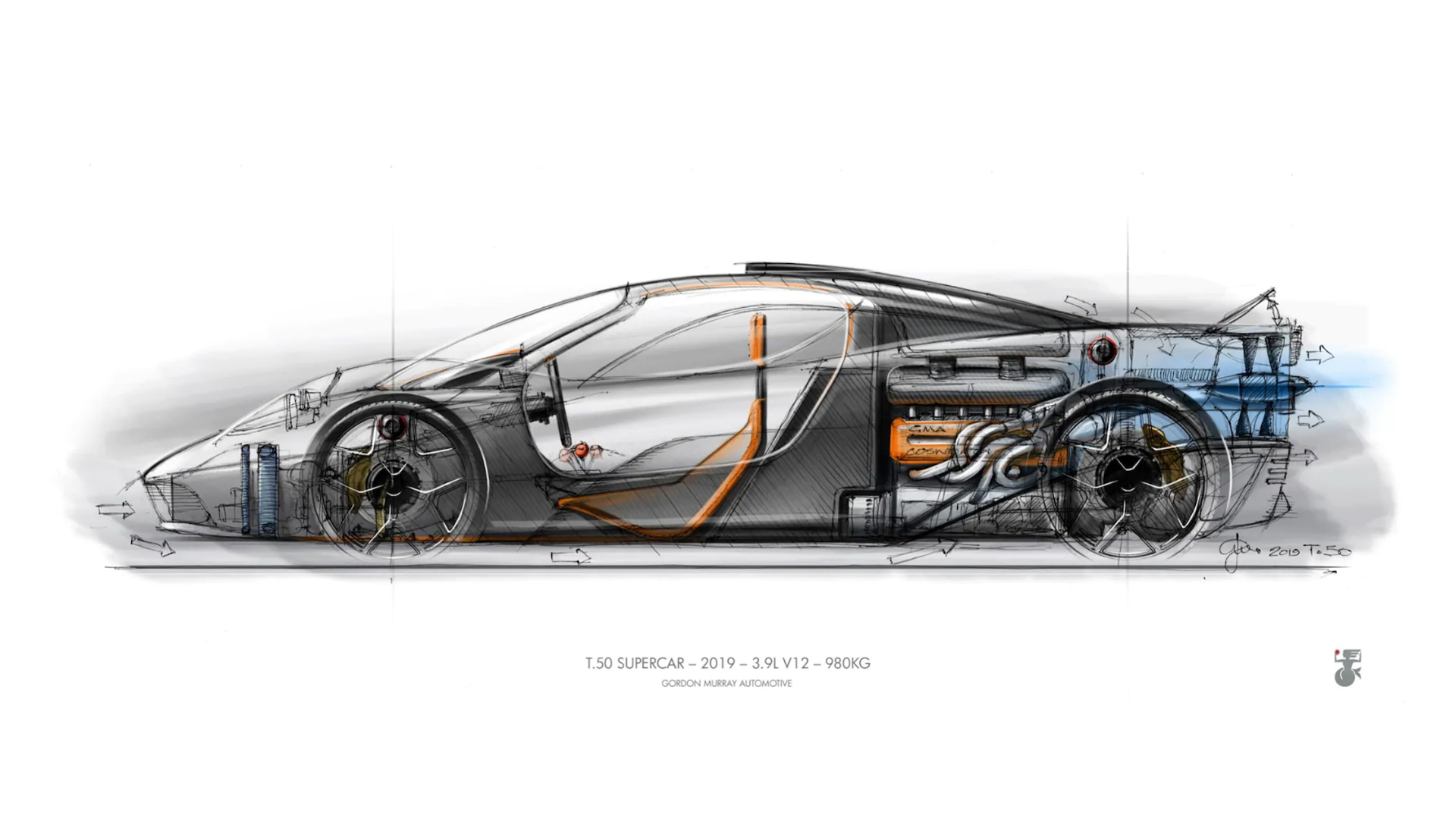 Murray's stunning new car has been revealed. An engineering and design masterpiece aimed to take us back to an age of purist analog driving experience, with modern design improvements.
We are looking at a design that has already had a factory built for it, a new engine and running gear complete and an aim to release the car in early 2022. A supremely lucky 100 customers will get to sit in the driving seat of this already coveted car.
Designed as the successor to his hugely successful McLaren F1 supercar, the T.50 takes the same approach to design with modern improvements and materials.
The McLaren F1, released in 1992 was iconic and broke away from the crowd. The T.50 is no exception with the most advanced active aerodynamic system in any production supercar and a naturally aspirated V12 delivering 650hp. Since this car isn't chasing a top speed, rest assured the engine will raise pulses in terms of acceleration, handling and driver satisfaction.
This approach creates a direct driving experience, unmatched by recent modern digitised dual clutch supercars aimed at maximising numbers. Back to an age where the driver felt very little between themselves and the road, other than the steering wheel, engine and tyres.
The T.50 Supercar Overview
Release aimed 2022
Successor to the McLaren F1
Built as a driver purists car, not chasing top speeds or numbers
Lightweighting strategy, overall weight just 980kg
'Fan car' technology lifted from Murray's technology banned by F1
Mid-engine, rear-wheel-drive layout with jet fighter style central driving position
Highest revving production supercar @ 12,100 rpm, brand new V12
100 exclusive models to be produced costing £2.2m
British built supercar - powertrain, body and chassis
Compact design, 4380mm long by 1850mm wide
Interior is spacious and comfortable for three + luggage

Intense lightweighting strategy
Depending on your definition of a 'supercar', the T.50 could be lighter than any existing supercar.
Chasing numbers adds weight to the car, to achieve those lofty top speeds and speedy gear changes with computer assistance requires extra components, each adding a little bit of weight.
By removing every unnecessary component from the car and adding advanced carbon fiber engineering aspects, the car is kept pure and light.
As a result, the car weighs just 980kg which is 30% lighter on average than current supercars.
Advanced active aerodynamics
One of the most impressive and interesting elements of this car is its approach to active aerodynamics.
Sophisticated dynamic underbody ground effect systems are employed, which adapt to the road as you drive on it.
The new 400mm ground effect fan creates a suction effect on the car. A throwback to the old trick in the BT46B Formula 1 car that Murray designed to win a race where the grip was so strong, even oil spilled on the track couldn't dislodge it.
This system was banned by the F1 after just one race.
Due to these underbody aerodynamics, the outer surfaces are sleek and there's no need for unsightly vents, wings or aerodynamic optimisations. As a result, the T.50 generates more drama per square inch than any other supercar.
Bespoke powertrain and running gear
Murray hails the T-50 as the last and greatest 'analogue' supercar that will ever be built. It will feature a brand-new Cosworth build V12 that creates 650hp and revs to 12,100rpm with 450Nm torque.
This engine is a work of art in its own right, producing more power from four litres than the old F1 used to get out of 6…
Coupled with a new roof fed ram air system, the engine can produce up to 700hp when the car is moving at speed and air is being forced into the engine.
Murray has rejected all use of turbos & electrified powertrain assistance to create that magical connection between the accelerator pedal and power on the asphalt.
As if this wasn't enough, it's coupled with a brand new lightweight six-speed gearbox that does away with a laggy over engineered double clutch.
The cherry on top? Monobloc alloy calipers and cutting-edge carbon-ceramic brakes.
Driver-focused engineering
Inspiring this entire build was a focus on the driver. The human in the seat. With little care for top speed, lap times or 0-60 in x seconds the team can focus on what makes driving great.
That central 'jet fighter' driving position, incredible visibility and analogue instruments put the driver at the centre of the entire experience. The car is built purely to satisfy the driver.
The details are all considered down to getting in and out, how much luggage you can take, multiple driving modes and easy service/maintenance have been meticulously designed to serve the owner in every way.
A marvel of engineering and inspiring to those in the trade.
MAT FOUNDRY GROUP ARE A LEADING MANUFACTURER OF GREY AND DUCTILE IRON CAR COMPONENTS. TO LEARN MORE ABOUT US VIEW OUR PRODUCTS OR CONTACT US TODAY
Instagram Feed
Latest Vacancies